PokerStars Review – An Extensive Review
PokerStars is the largest and busiest online poker room in the world and often has in excess of 200,000 players logged in simultaneously. An average of 25,000 ring-game players playing for real money at any given time and climbing up to 45,000 players at peak times, making it the world's biggest online poker room. The slick PokerStars software is regarded by many as being the best in the business, and the same is often said about PokerStars' customer support team. PokerStars offers an unrivalled game selection, the biggest and richest online poker tournaments, and an excellent customer service and is generally considered to be the safest and most financially secure online poker site in the world.
PokerStars first entered the online poker world back in 2001 and since then it has dealt more hands and ran more tournaments than any other online poker site. Over the years PokerStars has been at the forefront of innovation, creating the biggest weekly online poker tournament, the richest online poker festival in the world. PokerStars does not accept U.S. Players. In 2011 PokerStars exited the U.S. market but its doors are still open to anyone outside of the U.S. and it remains one of the biggest online poker sites in the world.
One of the main advantages of PokerStars is that it's equally welcoming to recreational and professional players, suiting everyone's needs in a way no other poker room can. Their software, while being relatively simple in design, has proven to be one of the best and most stable on the market. The variety of games and tournaments is unmatched, with millions in prize pools being awarded every day.
>>> Visit PokerStars Website <<<
PokerStars Screenshots
PokerStars Software Walk Through
Poker Deposit Bonuses from PokerStars
100% First Deposit Bonus
When signing up for PokerStars through TexasHoldemStrategy.net, make your first-ever real money deposit using the PokerStars Bonus Code "STARS600", and you will be given a 100% bonus up to $600. To claim the full value of the bonus, you can make up to three qualifying deposits in 60 days.
How the 100% First Deposit Bonus Works
Once you've made your deposit, you need to earn VIP Player Points (VPPs) by playing real money games on PokerStars. In most games, you'll receive 5.5 VPPs for every $1 you pay in tournament fees, or rake in a ring game hand.
Every time you reach 200 VPPs, PokerStars will credit your account with $10 cash – that's a rebate of at least 27% on every dollar you spend. You have four months after each qualifying deposit to earn all the VPPs needed to release your bonus.
Deposit now and you will also receive a 31-day ticket to exclusive 100K Privilege Freerolls, which give you the chance to win a share at least $1,000 four times a day. Deposit and there's no limit to how many freerolls you can play before your ticket expires. See 100K Privilege Freerolls below for details.
>>> Sign up at PokerStars today and claim your $600 bonus <<<
How Do I Qualify for a Deposit Bonus?
You are eligible for the 100% first deposit bonus when you download the PokerStars software via our link and enter the Marketing Code "psp20973" upon creating your account, and then make your first-ever real money deposit at PokerStars during the qualifying period using the PokerStars Bonus Code "STARS600". You should use the same Bonus Code in each of your first three deposits (up to $600) in order to qualify for the bonus.
If you cash out any amount from your PokerStars account during the bonus period, you will be unable to make further qualifying deposits. However, any existing bonus you have will be unaffected.
Please note that each instalment of the bonus expires after 120 days (approximately four months), and that you must earn the required VPPs before the four months are over, in order to earn your bonus. To check when your bonus expires, click the Cashier button in the PokerStars game software, and then 'My Bonus Status'.
PokerStars Marketing Code – psp20973
It is extremely important that you enter the Marketing Code "psp20973" when you are creating your account with PokerStars, otherwise you will not be tracked to us, and may miss out on the sign-up bonus and cash rakeback. Without the Marketing Code, you will also not be able to participate in any of our exclusive promotions at PokerStars.
To make sure your account is tagged to us, new PokerStars players should follow the steps below.
1. Fill in all the information on the "Create Your PokerStars Account" pop-up screen, select "Marketing Code (if available)" from the "Choose Source" drop down menu.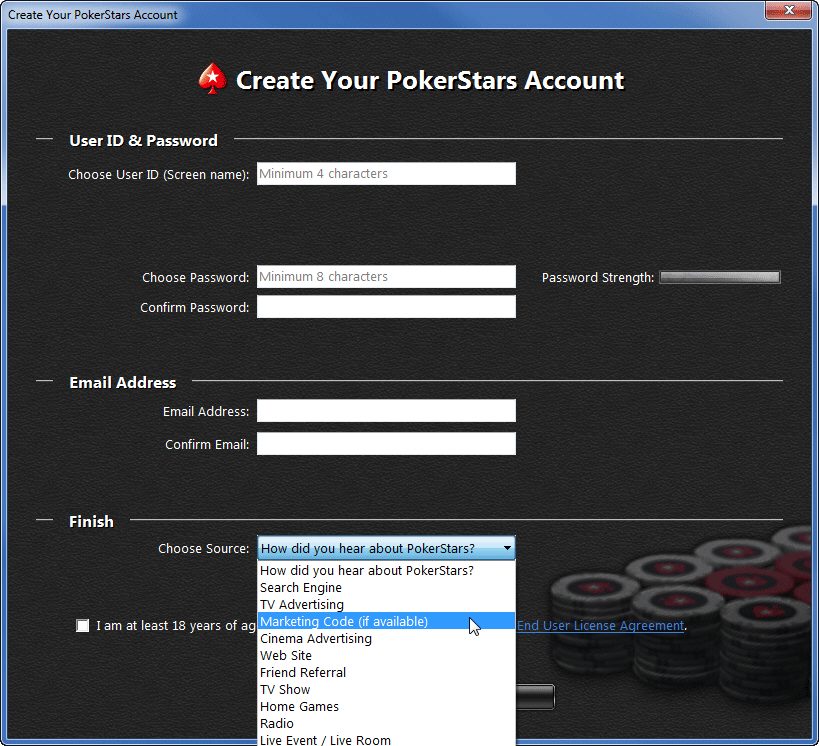 2. Once "Marketing Code" is selected, it will display a field labelled "Enter Marketing Code". Enter the marketing code "psp20973" in this field as shown.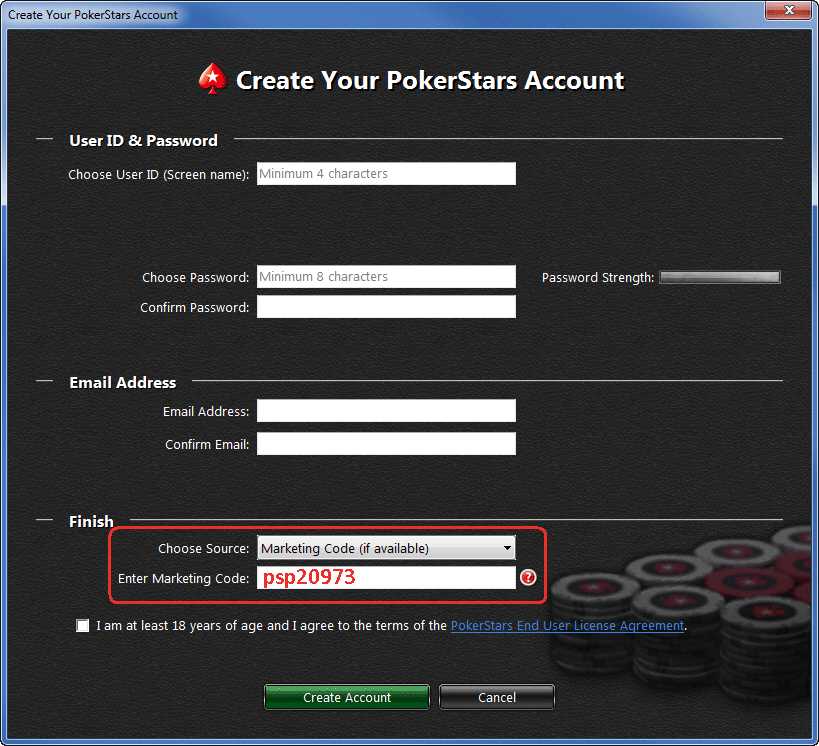 PokerStars 100K Privilege Freerolls
Depositors and ChromeStar VIPs: Win Free Cash Every Day!
The 100K Privilege Freerolls give you great value on your deposit. Simply fund your account and you'll be rewarded with entry to four $1,000 freerolls per day for 31 days – that's more than $100,000 in free tournament value! Alternatively, reach ChromeStar VIP level or above and you can purchase 100K Privilege Freerolls tickets direct from the VIP Store free of charge.
Each $1,000 freeroll tourney also features a special freebuy format. This means that entry is free, but you can re-buy and boost the prize pool, up to three times within the first hour for just $0.30 (per rebuy). It's the biggest daily freeroll series PokerStars has ever offered, and you can win your share of the bonus cash today.
PokerStars Rakeback and VIP Program
Poker Stars does not allow affiliates to offer rakeback, but they offer a VIP Program which takes the place of rakeback and is very lucrative to frequent players. Perks include cash rewards, bonuses and VIP tournament entries, to name a few. Although the program offers a variety of different perks, but to rakeback-minded players they will be most interested in the cash rewards. Players are compensated in two ways at PokerStars, Stellar Rewards and Milestone Rewards. The first way players are rewarded is by reaching VPP milestones called Stellar Rewards; Milestone Rewards are awarded when you reach SuperNova status.
FPPs (Frequent Player Points) are earned alongside VPPs (VIP Player Points), which are earned at a rate of 6 per $1 of rake at your tables at full ring and 5.5 per $1 of rate at shorthanded or MTTs/SNGs. Players then receive FPPs according to a multiplier of VPPs based on status level.
Below is a chart that details the various status levels at Poker Stars, the amount of VPPs required to achieve the status, the equivalent amount of rake required during a monthly or yearly period along with the number of FPPs that are earned per VPP. FPPs are used in the VIP store to purchase merchandise or bonuses; players can also use them to enter special FPP tournaments.
VIP Club Status Levels:
Status Level
VPPs Required
Rake Req.
Qualification
VPP Multiplier
RB %
0
0
N/A
1x
15% – 21%
750
$125
Monthly
1.5x
21% – 23%
3,000
$500
Monthly
2x
25% – 26%
7,500
$1,250
Monthly
2.5x
30% – 31%
100,000
$16,667
Yearly
3.5x
31% – 52%
1,000,000
$166,667
Yearly
5x
71% – 83%
Each level has different perks including: access to exclusive freeroll tournaments, milestone bonuses, faster VPP accumulation rates up to 5x for Supernova Elite players, exclusive merchandise in the VPP store, and many other benefits.
Remember this VIP program is not actual rakeback so to estimate the equivalent rakeback you are receiving you need to focus on the VPPs you accumulate while playing. These can be exchanged in the VIP store for a number of different products and each point has an approximate value of $0.016 per point. The listed numbers also take into account the value of Stellar Rewards and Milestone Cash Credits which deposit cash directly into your account.
PokerStars Games
Obviously, there are tons of No Limit Hold'em tables available as the game is still by far the most popular poker game to play today. No Limit Hold'em is heavily available up to $10/$20, but is also offered at limits ranging from $0.01/$0.02 up to $200/$400. Some of the higher stake No Limit Hold'em tables have the "Daniel's Room" label, which are exclusive high stakes tables with antes. Even if you can't play them, you are more than welcome to railbird them. Fixed Limit Hold'em is plentiful up to $10/$20 with some miscellaneous action up to $50/$100. Pot Limit Omaha is the third most popular game, with healthy action up to $10/$20. There are also players frequently playing at Pot Limit and Fixed Limit Omaha Hi/Lo, Stud, Stud Hi/Lo and Razz.
Other games outside the norm include Draw games such as 5 Card Draw, 2-7 Triple Draw and 2-7 Single Draw. Mixed games include HORSE, HOSE, Mixed Hold'em, Mixed Omaha Hi/Lo, 8-Game and Pot Limit Hold'em/Omaha. HORSE consists of Hold'em, Omaha Hi/Lo, Razz, Stud and Stud Hi/Lo. In HOSE, Razz is not played. Poker Stars even runs a Badugi game, which is similar to a four card Triple Draw Game since the lowest hand wins. Unlike some sites, games actually run at most of these tables, although oftentimes it is the smaller limits that see the majority of the play.
Games Offered
Limit Hold'em
$0.01/$0.02 up to $1,000/$2,000
No Limit Hold'em
$0.01/$0.02 up to $200/$400
Zoom Poker
$0.01/$0.02 up to $50/$100
Spin & Go Jackpot
$0.25 up to $100
Other Games
Pot Limit Hold'em, Omaha, Omaha Hi/Lo, 5 Card Omaha, 5 Card Omaha Hi/Lo, Courchevel, Courchevel Hi/Lo, 7 Card Stud, 7 Card Stud Hi/Lo, Razz, 5 Card Draw, 2-7 Triple Draw, 2-7 Single Draw, 8-Game, HORSE, Hold'em/Omaha Mixed, Badugi
Heads Up Tables
$1.40+$0.10 up to $4,937+$63
Sit n Go Tournaments
$0.09+$0.01 up to $1,923+$77
Multi-table Tournaments
$0.10+$0.01 up to $50,000+$1,000
PokerStars Sit and Go's
Poker Stars has more Sit and Go action than any online poker site. Players can find action at almost any game on the site. If you can't find the Sit and Go you are looking for at Poker Stars it is unlikely you will be able to locate it anywhere. Sit and Gos are offered at standard games such as Hold'em, Omaha and Stud as well as non-standard games such as Badugi, Triple Stud and more.
Poker Stars has an interesting twist on Double or Nothing tournaments. With Fifty50 Sit and Gos, the tournament will end when half of the players have been eliminated with the remaining players receiving a payout based on the amount of chips that players have at the end of the tournament. Poker Stars also offers Step Sit and Gos, consisting of different buy-in levels. Players can enter low buy-in steps and climb the ladder to win entry to increasingly large buy-ins.

Fast Online Poker Games – Zoom Poker
Zoom Ring Games and Tournaments: More poker, less time!
Zoom poker is the fast-paced ring game and tournament format where your opponents change every hand. This is because you play against a pool of players, instead of fixed opponents on one table. The rules are the same as those of a standard poker game, but you can be dealt up to 300 hands per hour on each table you sit at. Since Zoom Poker is much faster than the regular tables, we recommend you start with just one table. When you get more comfortable, you can join up to four Zoom tables at once.
Your opponents on your old table will not know you have folded until the action gets to you, by which time you could have been dealt two or three more hands. This is the fastest poker game experience anywhere online, and you can try it at PokerStars now.
Here's how it works:
Fold, and you'll immediately be moved to a new hand, at a new table.
You can fold at any point when you are facing a bet. You can even click "Fast Fold", which allows you to fold before it's your turn to act.
Watch the end of a hand play out by holding the CTRL key when you the click the Fold button
Available across Hold'em, Omaha and Draw ring games and tournaments.
Find Zoom ring games under the "Zoom" tab in the PokerStars lobby, and Zoom tournaments under the "Tourney" tab.
Zoom poker is also available on the PokerStars Mobile app
Zoom Poker is the perfect fit for high volume players who want to stay in action, as it is the fastest way to play poker on the internet, and you could log tons of volume in a short period of time. In addition, it is quicker than ever before for the players to clear the bonuses and climb up their VIP status level.
PokerStars Tournaments – Sunday Million
PokerStars is home to the Sunday Million, the world's biggest weekly online poker tournament. With a $1,000,000 guaranteed prize pool and first prize regularly in excess of $150,000, this No Limit Hold'em tournament attracts poker's best players and is the ultimate way to take your bankroll to new heights!
Win your seat with hundreds of satellites throughout the week, or buy-in directly for $215 every Sunday at 14:30 ET. Satellites run throughout the week from as little as $0.55 or 25 FPPs. From poker legends, to satellite qualifiers and Team PokerStars Pros, the Sunday Million is open to everyone.
More Sunday Majors at PokerStars
The Sunday Million isn't the only big-money Sunday event at PokerStars. From the $400,000 guaranteed Sunday Warm-Up to the $300,000 Sunday Storm, every week you can be playing some of poker's biggest tournaments on the internet. Direct buy-ins start from just $1, with satellites to all events running throughout the week.
The Sunday Warm-Up is your chance to win a share of $400,000 in guaranteed cash. It's one of the largest tournaments in online poker, with first place regularly awarding more than $75,000. Previous winners include some of the biggest names in poker, and you could be next.
With a buy-in of just $11, the Sunday Storm is ideal for players of all levels and bankrolls. But the huge guaranteed prize pool of $300,000 means there's everything to play for. If you're looking for your first taste of big money action then this is the tournament for you. It starts every Sunday at 13:30 ET.
PokerStars Online Home Games Features
Home games have always been part of poker. A group of friends, a game of cards and the thrill of friendly competition in a comfortable environment, but it's not always easy to get together in one place. So why not play your home game online? It's a simple idea, and PokerStars Home Games makes it a reality.
Now you can take the home game experiences online. PokerStars Home Games lets you create and manage your own private poker club to play online poker games of your choice, with just your friends, on your schedule. You decide who can join, and your club can have up to 50 members. Every member can access your club's private lobby in the PokerStars game software.
Creating a club is easy and simple, just pick a club name and invitation code. You will then be presented with your own exclusive poker lobby that you can customize with private Home Game tables and tournaments of your choosing. Invite your friends and play the games you like at a time of your choosing.

Fast and Thrilling Poker Format – Spin & Go
PokerStars Spin & Go's are the fastest way to win up to 10,000 times your buy-in. Each Spin & Go has a randomly assigned prize pool, and gives you the chance to win up to $1,000,000 in minutes. With buy-ins from $1, it's the exciting poker format that anyone can play.
How Spin & Go's work
Spin & Go's are fast-paced, 3-Max Hyper-Turbo Sit & Go tournaments, featuring 500 chip starting stacks. Buy-ins range from $1 to $100, and each tournament has a randomly drawn prize pool that will award between two and 10,000 times your buy-in.
Prizes and Probabilities
The majority of Spin & Go's are played as "winner-takes-all" tournaments except for when your Spin & Go hits one of the three highest prize tiers. In these Spin & Go's no player walks away empty-handed as the second and third-place finishers will also receive 10% of the first-place prize.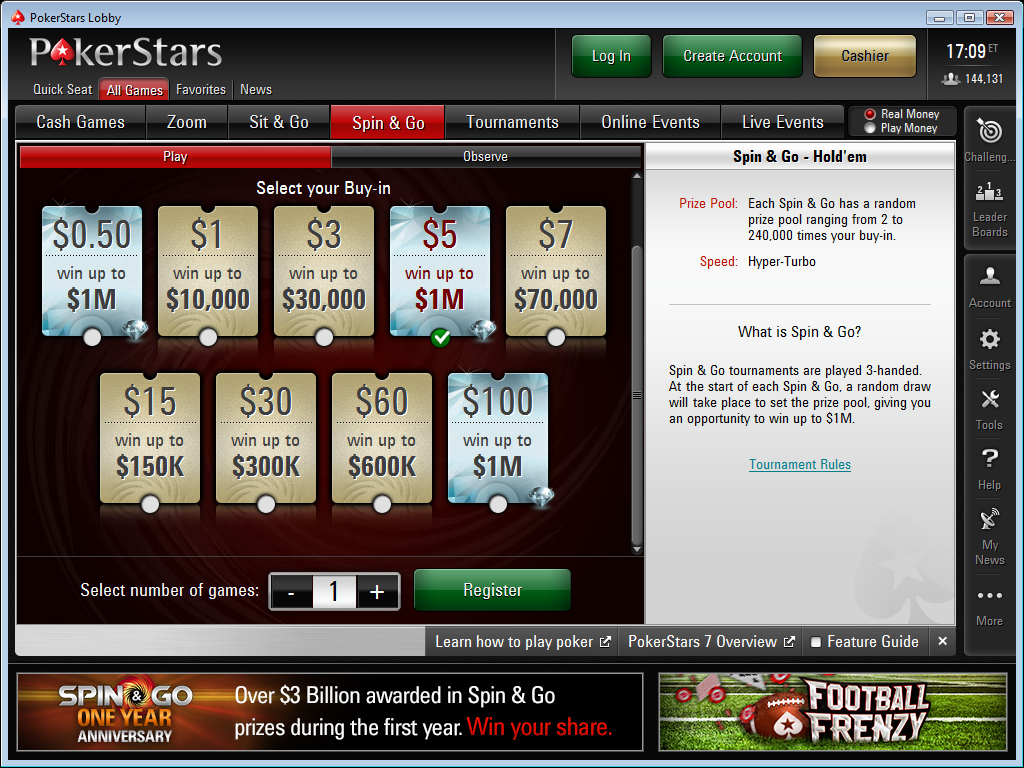 $1 Million Dollars Spin & Go
You can win a cool million dollars for a buy-in of just $0.50 with special $1 Million Spin & Go's! Spin & Go's are 3-max Hyper-Turbo tournaments that see all players start with just 500 chips. Before the fast-paced action kicks off, a spinner in the middle of the table reveals how large the prize pool will be. It could be anything from double your buy-in up to the staggering 2,000,000 times your $0.50 buy-in if you hit the million dollar prize. To increase your chances of hitting that $1 Million top prize you can also play the $5 or the $100 Spin & Go's. There are plenty of ways to become a millionaire with PokerStars, but none of them are as quick as this!
Prizes and Probability
The $0.50 and the $5 Spin & Go's both feature a top prize of $1,000,000 for the winner, with $100,000 set aside for each of the runners-up in that millionaire-making tourney.
The $1 Million Spin & Go promotion is a temporary product offering, which will be available during special promotional periods only. The $1 Million Spin & Go with a buy-in of $100 is a part of the regular offering.
Only the $0.50, $5 and $100 buy-in Spin & Go's are eligible to win the $1 million prize, all other Spin & Go's will keep their standard advertised prizes, where players can win up to 10,000 times their buy-ins.
>>> Play Spin & Go and become a Millionaire today <<<
PokerStars Moblie App
PokerStars now offers a mobile version. You can now play anywhere that there is an internet connection with your Android, iPhone, iPod Touch, or iPad. Full banking is also available on a secure connection so deposits and withdrawals are just as easy on your mobile device as they are on the traditional PokerStars software.
The App is completely free to download and will work on Apple devices which have iOS 4.31 or higher and on Android devices running Android 2.3 and above, with a minimum screen resolution of 800×480.
Features include:
Ability to play for real money and play money
Auto top-up in cash games
Preferred seating option
Zoom Poker
Ability to play multiple tables
An online cashier so you can deposit and withdraw on the move
All your favourite Hold'em and Omaha tournaments are available
PokerStars Moblie App Screenshots
PokerStars Free Poker Training
PokerStars players can have access to free poker coaching through PokerStars own online poker coaching site: Poker School Online. Poker School Online (PSO) is an online poker training site that lets you learn the basics and start playing for fun. It's got everything you need to improve your game and perfect your skills at a pace that suits you. And best of all it's completely free to use for all PokerStars players! You can also take part in the PSO Skill League, exclusive to users of the site, which has $17,500 in cash prizes awarded every month.
The PSO site includes a range of interactive tools to help test your skills, including easy-to-use courses that cover all the basics of Texas Hold'em and beyond. There's also a huge archive of strategy articles available to read, including advice from Team PokerStars Pro players like Daniel Negreanu and Randy 'Nanonoko' Lew. Randy is a well established online poker player who has been playing professionally since 2007 and amassed several million dollars on PokerStars. What's more, you can even participate in live poker training sessions, where the PSO coaches analyze hands as they play, helping you to understand the game by watching the action in real-time.
PokerStars Cashier
PokerStars has a variety of options for players who wish to deposit.  Depending on your country of origin, deposit and payout options may differ.  All deposits and payouts at PokerStars are free of charge to players, and the minimum deposit across all options is $10.
Credit card deposits via MasterCard and Visa is one of the easiest methods to deposit on PokerStars and one of the fastest.  These are instant and available to anyone who has one of these major credit cards.  However, the most popular option for frequent players is online e-wallets.  E-wallets such as Neteller and Skrill (MoneyBookers) are well trusted in the industry and have been around for a decades.
In addition to these options, PokerStars offers a dozen more ways to get your money online.  These include Bank Transfers, INSTADEBIT, Entropay, Checks, Bank Wires and many more options. Once the deposit process is completed, your player account will be credited the money instantly from most deposit option, and players will have full access to the money to play any game he wants.
Deposit Options: Bank Draft, Bank Transfer, Carte Bleue, Check, Clickandbuy, DK, echecks, ELV, Entropay, Instadebit, Maestro, Mastercard, Neteller, PayPal, Paysafecard, Skrill (Moneybookers), Solo, Ticket Premium, Ukash, Visa, Webmoney
Withdrawal Options: Bank Transfer, Check, Clickandbuy, echecks, Entropay, Instadebit, Maestro, Neteller, PaySafeCard, Skrill (Moneybookers), Solo, Ukash, Visa, Webmoney
PokerStars Pros

  State-of-the-art software


  Unrivalled selection of cash games and tournaments


  The site is busy 24-hours per day every day


  Zoom Poker makes it easier to generate player points


  Best customer support team in the industry


  Extremely financially secure


  Numerous satellites into WSOP, EPT, APPT and LAPT


  Home of Zoom Poker, Sunday Million, SCOOP, TCOOP and WCOOP
PokerStars Cons

  Tough opposition in high-stakes tournaments and cash games
Overall
Sometimes bigger does mean better, PokerStars definitely fits into this category. A large game selection, good customer support and excellent VIP rewards make PokerStars the best online poker site around. If you have to choose only one online poker room to play at, it has to be PokerStars.
With over 15 years on the market, PokerStars is still going strong. PokerStars is the largest poker site in the world, offering massive volume in cash games and tournaments 24 hours a day. The software is also top-notch and offers fast play, high reliability, great multi-table options and many customizations available. They have done a great job on keeping all the players happy and satisfied, so it doesn't matter if you are a recreational or professional poker player, PokerStars will be equally great for you in every possible ways.